Marin Earth Day is co-sponsored by Marin Artists International Network, the San Rafael Elks Club, Vegetarian Educational Group in Marin and the Commnity Media Center of Marin (CMCM)
Some of our Kitchen crew (volunteers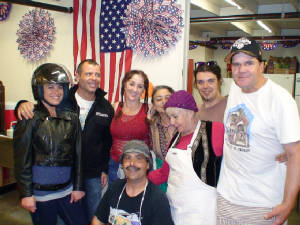 Welcome to Marin Artists InternationalNetwork (MAIN), a nonprofit organization.This year 2017 MAIN is proud to have joined the San Rafael Elks Club, the Community Media Center of Marin and the Vegetarian Educational Group in San Rafael in presentation of the Marin Earth Day 2017 and Marin Green Fair, April 22, 2017 at the San Rafael Elks Lodge. Join the monthly planning meetings in San Rafael for the 2018 Marin Earth Day Celebratopm. Non profit organizations, green businesses and individuals are invited to contact marinearthday2017@gmail.com or leave a message (415) 339-1378. Contact marinartists@hotmail.com if you would like to join us in the 2018 Celebration. You are invited to come up with fresh ideas or offer programs within the Earth Day Activities.
Enjoy our weekly television show, "Marin Artists Showcase" (video archiving artists since 1976). Tune in Sundays at 9 p.m. to local channel AT&T channel #99 or comcast #26 or click on to cmcm.tv or marin.tv, than click "community" and last click "Watch". This magazine style show features music, theatre, art, and community events.
Spring brought us May flowers, and CARNEVALE FANTISTICO, we celebrated with the Italian Renaissance. We we were able to fundraise $300. and network at this wonderful cultural festi
MARIN ARTISTS SHOWCASE continues to be cablecast on local Marin Channel #26 at 9 p.m. Sundays as well as webcast at the same time www.marin.tv click "watch" then click "community" then click on black screen for program. Please talk to us if you would like to be video recorded for the "Marin Artists Showcase".
Visit us at
Northern California Renaissance Faire (www.norcalrenfaire.com) at Casa de Fruta, Holister CA. We raised almost $500.00 for Marin Artists Network last year, which really helps us to continue.
Join us for our other fundraiser at the Dickens Fair, with our Sea Gypsy Chestnut Cart, weekends from November-December weekends, 2017. Go to www.dickensfair.com for more details.

Marin Artists International Network (MAIN) is not a membership organization, so we(MAIN) depend on volunteers and fundraisering. MAIN did really well with the 26 year Anniversary of our fundraising vegan food booth at our award winning Marin County Fourth of July Fair. We depend on our volunteers to help us. The last year we did the Marin County Fair the volunteers did wonderfully that year, we won yet another food award for excellence, and we raised a few thousand dollars to Maintain all the good work that MAIN does and continues to do with help and support from our community. When funds are available we can sponsor special events, besides featuring Marin talent on our TV show, Marin Artists Showcase. We invite other nonprofits, green businesses, individuals and Marin businesses to join us and support the Marin Green Fair and Earth Celebration next year. Marin Artists Network has already sponsored two Green events in Marin, "Go Green Marin" and dance, "Got Green Love", (San Rafael Community Center) held down town San Rafael a few years ago,
Bands, performers, non-profit organizations and anyone needing a venue, is invited to contact us. Artists are invited to call or e-mail who have an interest in being video recorded for local television on location or at the Community Media Center of Marin (cmcm) Television studio (Marin Public Television). Edited on to the one-hour show it goes on to a weekly Marin local TV show, "Marin Artists showcase" (since 1976). Artists receive dvd copy that they can use as sample dvds or for review or use on websites. Please contact Marin Artists
marin
artists@hotmail.com
MAIN assists other organizations with their fundraisers, public relations, video (document) projects. We can video record an event, performance, festival, memorial or program. We can help support an event by supporting promotion, organization, networking, crew, talent resources, box office, stage managing, refreshment bar, security and advice. We can also give you leads on facilities and other resources, just call us or e-mail us.
MAIN MUSIC SHOWCASE is sponsored and produced by MARIN ARTISTS NETWORK, a non-profit 501c3 and also produces and presents local Marin Television show, THE MARIN ARTISTS SHOWCASE. In Marin tune in to Marin Cable Channel (Community Media Center of Marin) #26, on Sundays at 9:00 p.m. and if you do not get Marin Channel #26, you can catch the program same time same day on www.cmcm.tv or
www.cmcm.tv
on streaming video.

Fairies, Marin Panto, (Stark Ravens)
Get in touch with us, if you are an artist, performer, group or organization that would like MAIN to assist with video and or general support, we do not and can not grant money, but we can help with networking and resources. Leave a message by calling (415) 339-1378 or e-mail us at marinartists@hotmail.com
CALLING ALL ARTISTS and community organizers, leaders, and resource people, we are gathering ideas and resources for The Marin Green Fair. We will need a good indoor outdoor location, and all kinds of resource people, speakers, displays, music, entertainers, organic vegan food vendors, theatre, childrens activities and more. Join us in this project. Contact us if you have an interest.
Join us at the GREAT DICKENS CHRISTMAS FAIR, weekends: Starting Satuday, Nov. 21 (also Friday November 27, and Saturday and Sunday through Dec.20, 2015 at the Cow Palace Exhibition Halls for a theatrical extravaganza. Make sure you visit the Chestnut Cart (wonderful fund raiser for MAIN). Do not miss all the music and theatrics, also the music Hall, scandalous Can-Can, saucy French Postcards, traditional Punch and Judy Show, dance at Fezziwigs Dance Party and so much more. Partake in Games of Skill and chance, visit with Old Father Christmas, indulge in hot buttered rum, and don't forget to wear a costume, so much more fun that way.
Visit the Sea Gypsy Chestnut Cart in the food court. This is a fundraiser for Marin Artists International Network).
As always the very best Yuletide craft and gift market for your shopping pleasure. Go to: www.dickensfair.com for advance tickets and more information.
CALLING ALL TALENT: Would you please contact us if you have an act-performance, you would like to see on Marin Local television. We are also looking for local comedy. We tape at the Marin T.V. studio (Community Media Center of Marin) on Saturday afternoons. If you are playing at a venue in Marin, and you would like us to come and video taped, please contact us. If we shoot you in the TV studio or we attend an event, and we video record your performance, we give the talent a free dvd of their perfomance, and include some of your performance on our weekly tv show, Marin Artists Showcase (since 1976). The performance and artist)s) are also archived in MAIN

We also do great fundraising at the Great Dickens Christmas Fair at the Cow Palace, weekends till right before Christmas at the Chestnut Cart, serving and selling the best hot roasted Chestnuts. This has got to be the best Christmas Fair in the World and we did wonderfully and made so many contacts. If you have never been, you got to go for an experience of a life time!
Come and see us at the Northern Renaissance Faire at the SEA GYPSY in Traders Market. September and October 2015 weekends at the Sea Gypsy booth, fortune telling, charms, spells and exotic treasures. The Faire features great entertainment and juried crafts, and games, with free Celtic Music Concerts right after the Faire closes! Go to:
www.norcalrenfaire.com/
f
Marin Artists International Network (MAIN) is not a membership organization and has a Board of Directors. We welcome volunteers to help us with our fundraisers and our programs.
We raised so much money and have so much fun at our fundraiser at at the Dickens Christmas Fair, starting Friday, right after Thanksgivings, and Saturdays and Sundays till right before Christmas. The Stark Ravens perform their Pantomime at the Dickens Fair. Make sure you vist the Sea Gypsy Chestnut Cart, and get some of our hot roasted chestnuts, such a holiday treat and a good fundraiser for Marin Artists.
Please call 415 339-1378 and leave you name, phone number and best time to call you back, or e-mail us at
www.marinartists@hotmail.com
if you would like to join us for the Marin Green Fair or any of our other projects.